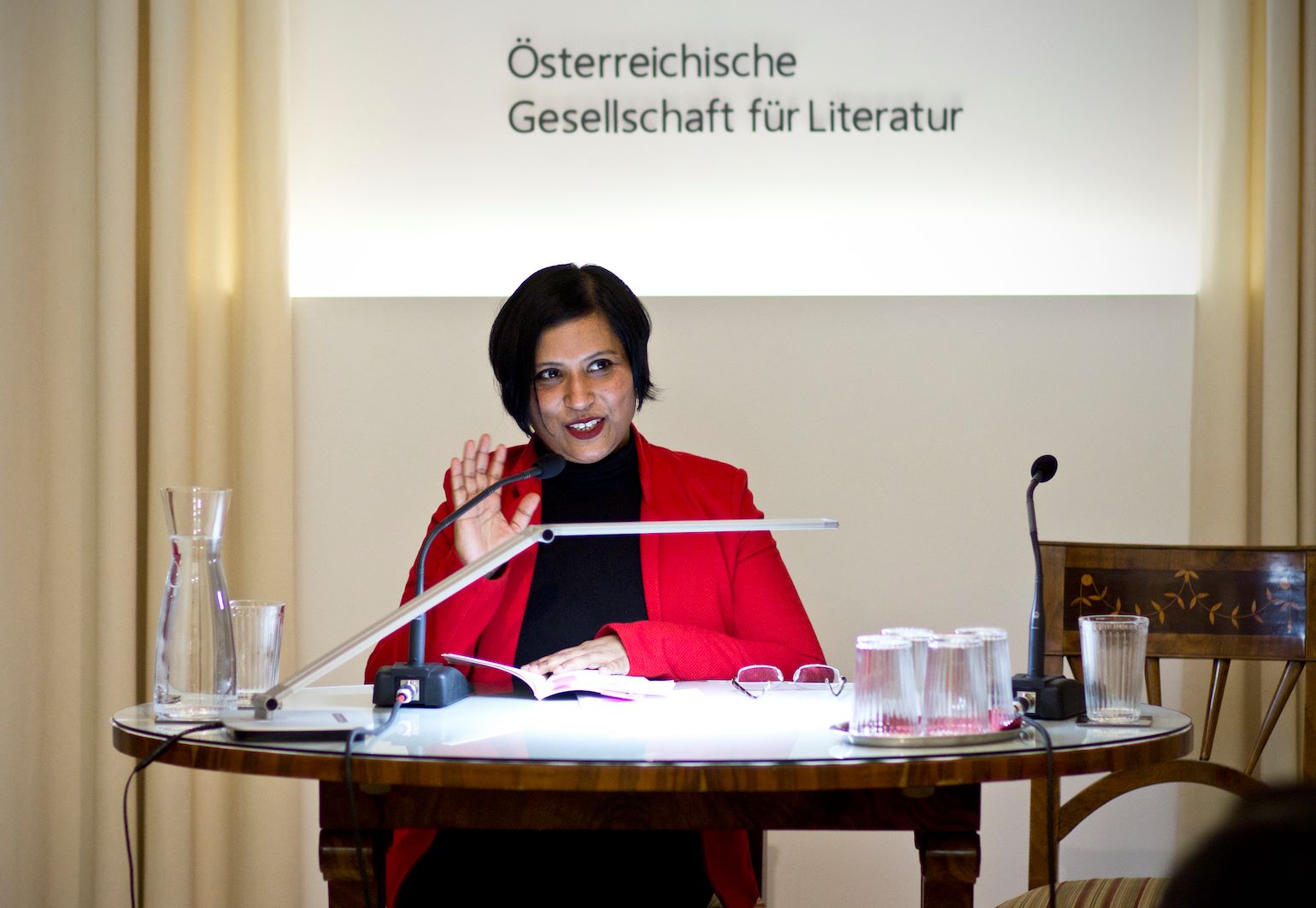 Presentation Room Austrian Society for Literatur
Contemporary literatur meets its heritage. The old palais experienced a subtil redesign of the presentation room. Glowing edges add some weightlessness into this baroque decor.
CLIENT: österreichische gesellschaft für literatur
design: MICHAEL BALGAVY
construction: JOHANNES KAFKA
Pratersauna Bar
Eine Bar aus Beton für die neue club-und artspace location im grünen Prater von Wien. Der Betonklotz inmitten der illustrierten Toiletten, Graffitis und bunten LEDs wirkt als wäre er schon immer da gewesen. Das Gewicht von 1 Tonne sorgt dafür, dass es auch noch länger so bleibt.
Die Oberfläche zollt dem alten Terrazzo Tribut, darüber hängen klimapolitisch provokant aber besonders augenfreundliche Glühbirnen, die damals 2009 ein Revival einläuteten. Eingerahmt von einer, nur analog beschriftbaren, schwarzen Tafel. Lichterloh läßt die Bar in der passenden Event-Farbe erstrahlen.
CLIENT: PRATERSAUNA
design: Michael Balgavy
construction: Klaus und Martin
Light: Lichterloh
Webster University Facade
Webster University's new central location glows in the dark.
Client: Webster Private University Vienna
DESIGN: MICHAEL BALGAVY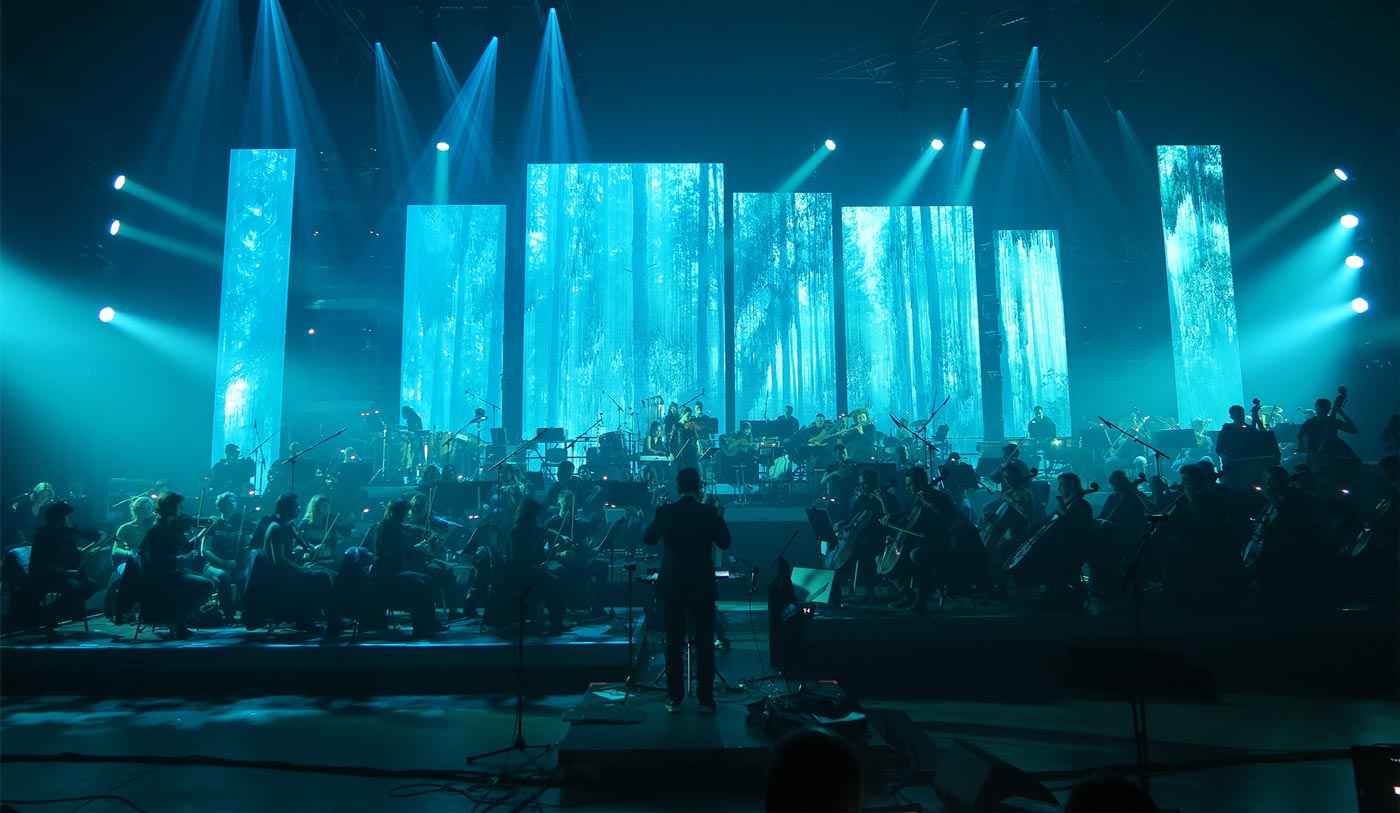 STAGE DESIGN: THE WORLD OF HANS ZIMMER
7 seperate LED towers provide an unusual visual approach to the world of famed composer Hans Zimmer. The stage was extendable and revealed a hidden choir.
CLIENT: semmel concerts, hans zimmer, tomek productions
DESIGN: MICHAEL BALGAVY
Hollywood in Vienna Stage
Stage Design for Hollywood in Vienna in Wiener Konzerthaus. 5 huge LED screens between the historic columns reveal a window to other worlds. Big light bulps on stage add a nostalgic and romantic flair.
design: michael balgavy
realized with oliver kunze, habegger
Franz Kafka Kierling - Memorial Room
The exhibition rooms in the house, where Franz Kafka died in 1924 received a major makeover. All walls were redesigned and partially exposed to its bare bricks. The exhibition features various large scale photographs, replicas, a library, seating capacity for events and plenty of quotes. The notepads that Kafka used to communicate due his inability to speak were collected in a chandelier.
Click on the photo to see more.
CLIENT: ÖSTERREICHISCHE FRANZ KAFKA GESELLSCHAFT / AUSTRIAN FRANZ KAFKA SOCIETY
CONCEPT: CHARLOTTE SPITZER, MICHAEL BALGAVY, MANFRED MÜLLER
DESIGN: MICHAEL BALGAVY
PROJECT MANAGER: CHRISTINA FIX
GALLERY: MARION BIRRINGER
construction: JOHANNES KAFKA, JÖRG KOLLEGGER, MANFRED MÜLLER, ETC.